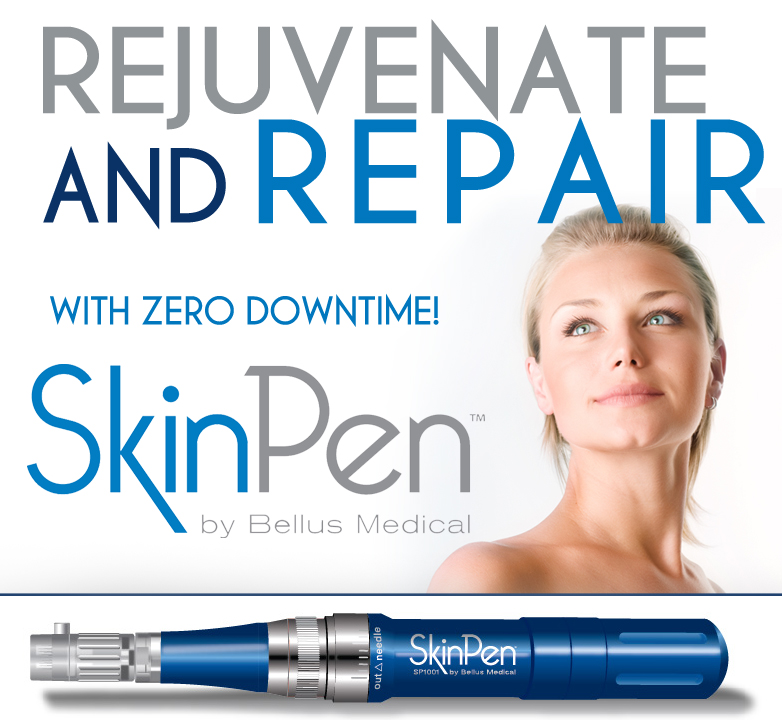 SKINPEN BY BELLUS MEDICAL
The Difference of SkinPen
Traditional micro needling dermarollers can bend, break, or even rust. As a result, infection or scarring may occur with reuse. SkinPen is different.
Through an optimized micro-channel creation, SkinPen uses straight needles to penetrate at a 90 degree angle to stimulate your skin's natural ability to produce new collagen and elastin formation, encouraging your skin to look and feel healthier.
Features of SkinPen
Offering results to treat fine lines and wrinkles, acne scars, hyperpigmentation, stretch marks, and skin texture.
A minimally invasive, non-ablative treatment.
A skin rejuvenating treatment with a superior safety profile.
An in-office procedure that is quick and simple.
Celluma® Anti-Aging Treatment
The results are illuminating!
You can reduce the appearance of fine lines and wrinkles, while experiencing an improvement in skin texture, quality and smoothness. Using wavelengths that are scientifically proven to stimulate fibroblasts to increase collagen and elastin, Celluma's low-level light therapy is a safe, effective and convenient way to achieve a healthy, youthful glow in a natural, non-toxic, non-invasive manner.
The only all-in-one low-level light therapy device designed to manage a variety of pain and skin conditions. Cleared by the FDA for pain management and skin care, Celluma® uses light energy to improve cellular health by accelerating the repair and replenishment of compromised tissue cells.

ALLUMERA® BY BELLUS MEDICAL
Allumera, is a light-activated photodynamic cosmetic cream that fits seamlessly into any aesthetic practice as a non-invasive solution.
In a survey conducted three months after patients' third Allumera procedure:*
93% of people said their skin felt softer.
91% of people said their skin felt more hydrated, moisturized and smoother.
89% of people said their skin texture was improved.
86% of people said their skin looked and felt healthier.
73% of subjects saw a reduction in wrinkles.
Rejuvenate Your Skin & So Much More!