Lift your skin to a new level of health with Lira Clinical Skincare facial treatments which are custom tailored, using the most advanced protocols and products to suit your individual needs, budget and lifestyle.
Introductory Facial Treatments – 60 min. – $80
Lira Clinical products are paraben and polyethylene-free and combine key ingredients to repair, restore, and brighten skin.
Lifting – Hydrating, firming, and lifting for all skin types.
Hydrating Caviar – Hydrating and calming for dry /dehydrated skin.
Balancing – T-zone relief treatment for combination skin types.
Acne relief – Refining and calming extraction procedure for correction.
Teen Facial – 60 min. – $60
W/ salicylic – $70
We will address the special needs of teenage skin.  Includes deep pore cleansing, enzyme treatment, extractions and treatment masque.
Clinical Conditioning Treatments – $95
Lira Clinical's exclusive corrective, no downtime treatments Includes a deep pore cleansing, using highly active organic enzymes to speed up cellular turnover to lighten, brighten and tighten your skin in just one treatment.  Great before special occasions!
Mystiq Elite – Lifts and illuminates skin.
Lira Lux – Ultra-hydration and optimal skin renewal.
Pumpkin anti aging – Advanced peptide technology.
Brightening Plus – Firming and lightening lactic treatment.
Precise Peel Treatments – $110
Using plant stem cells, powerful peptides, potent antioxidants, and healing minerals, these series building treatments are designed to treat and correct fine lines wrinkles, pigmentation, dehydration, rosacea and acne. Leaving skin firmer, lighter, and healthier.
Vita Brite Refresher
Pumpkin Plus Definer
Lactic Clear Definer
Hydroxy 30 Rebuilder
Sal pulp Definer ( acne 1 & 2)
Beta Plus Rebuilder ( acne 3 & 4)
Advanced Peel Treatments – $130 – $160
Very aggressively treating deep lines, stubborn pigmentation, acne scars and problematic issues.  Possible downtime and peeling is noticeable.
Green Power Rebuilder
Mineral Jessner Rebuilder
Mineral Retinol
Mineral TCA Rebuilder
Add on Treatments – $25
Micro Refresher – Buff away dead and dull skin to revive your skins natural beauty with a pass of microdermabrasion masque.  Combine with any facial treatment for added benefit and exfoliation.
2- layer Eye Refresher – Perfect for puffy eyes, dark circles, or just "tired eyes".
Hand Rejuvenation Refresher – Hydrate, exfoliate and diminish age spots to restore youthful hands and cuticles.
Dermaplanning with lactic peel- $75
add on to service -$50
Is an exfoliating treatment that provides an alternative to Microdermabrasion and is a good choice for anyone with fine facial vellus hair (peach fuzz), or extremely sensitive skin. The Dermaplaning treatment is performed by an experienced aesthetician that uses a modified blade to gently exfoliate the outer layer of dead skin cells.
Facial Cupping add on- $30
Benefits of Facial Rejuvenation Cupping:
Increased blood circulation to head and neck
Increased circulation and absorption of nutrients to the skin
Improved absorption of facial products
Drainage of stagnant fluids
Reduced puffiness and edema
Reduced appearance and prevention of facial lines and wrinkles
Collagen Induction Therapy/Microneedling
The latest advancements in Micro-Therapy
Skin Pen
A medical grade, state-of- the-art microneedling device designed to reverse years of sun damage, improve the appearance of scars, stretch marks, and hyperpigmentation as well as enhance the overall appearance of aging skin. Skin Pen allows for controlled induction of the skin's self-repair process by creating thousands of precise micro-injuries in the dermis, automatically triggering new collagen synthesis without causing scar tissue formation. Maximum results!  Little or no downtime! Read More About Skin Pen
NEW!! Celluma® LED Therapy
Anti-Aging Treatment
This new non-invasive therapy uses low-level light to reduce the appearance of fine lines while improving in skin texture, quality, and smoothness. Celluma® by biophotas is FDA approved as a skincare, anti-aging, and acne treatment, as well as for pain management. The results are illuminating! Read more about Celluma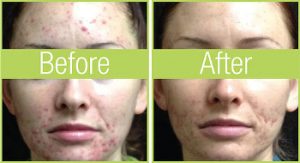 NEW!! Allumera®
The Brilliance of Beautiful Skin
Minimize the appearance of pores
Revitalize the skin for a younger looking, clearer complexion
Reduce the appearance of fine lines and crow's feet
Improve skin firmness creating a more supple appearance
Improve overall skin texture
Rejuvenate Your Skin & So Much More!
Our premier hard and cream wax imported from France is gentle yet effective without irritating the skin.
Eyebrow Contour – $25
Chin – $15
Lip – $12
Full Face – $50
Underarms – $30
Arms – $40
Half Leg – $50
Full Leg – $75
Bikini – $45 and up
Brazilian – $65and up first visit $60 w/ 3-4 week rebooking
Back – $55 and up
Hairline Design – $25 and up
Rejuvenate Your Skin & So Much More!
Eyelash Perming – $55
Eyelash Tinting – $30
Eyebrow Tinting – $20
Make-Up – $55 – $75
Our make-up artist is available for bridal parties, proms, photography, and on location events.
Rejuvenate Your Skin & So Much More!
Massage Therapy
From an expert pair of hands that provide professional healing care, massage away stress and sore muscles.
Chair Massage
$1 per minute
$2 per minute with bamboo sticks
Focused Massage
Work on specific areas of distress.
30 min. $50
Swedish Massage
De-stress with a customized relaxation massage using traditional Swedish techniques.
60min. $80
90min. $100
Deep Tissue Massage
Focus on trigger points and muscle release with a tailored deep tissue massage.
60min. $90
90min. $1110
Sports Massage
Invigorating muscle massage combined with stretching to fit your personal needs.
60min. $90
90min. $110
Prenatal Massage 60min. – $90
The gentle, noninvasive approach of prenatal massage can ease discomfort associated with pregnancy, it enhances the function of muscles and joints, improves circulation and general body tone, and relieves mental and physical fatigue.
Aromatherapy Massage 75 min. – $120
This massage will tingle and soothe all the body senses.  Starts with a stimulating dry brushing, followed with and aromatherapy cleansing oil and finished with a 60 minute massage using essential oils.
Warm Bamboo Stick Massage
60min. $90/ 90min. $110
A technique that incorporates bamboo stalks of varying lengths and diameters to provide deep-tissue work. It is a unique new therapy that relaxes tight muscles- instantly and painlessly!   It's an effective way to release stress and tension, relieve aches and pains, and improve sports performance.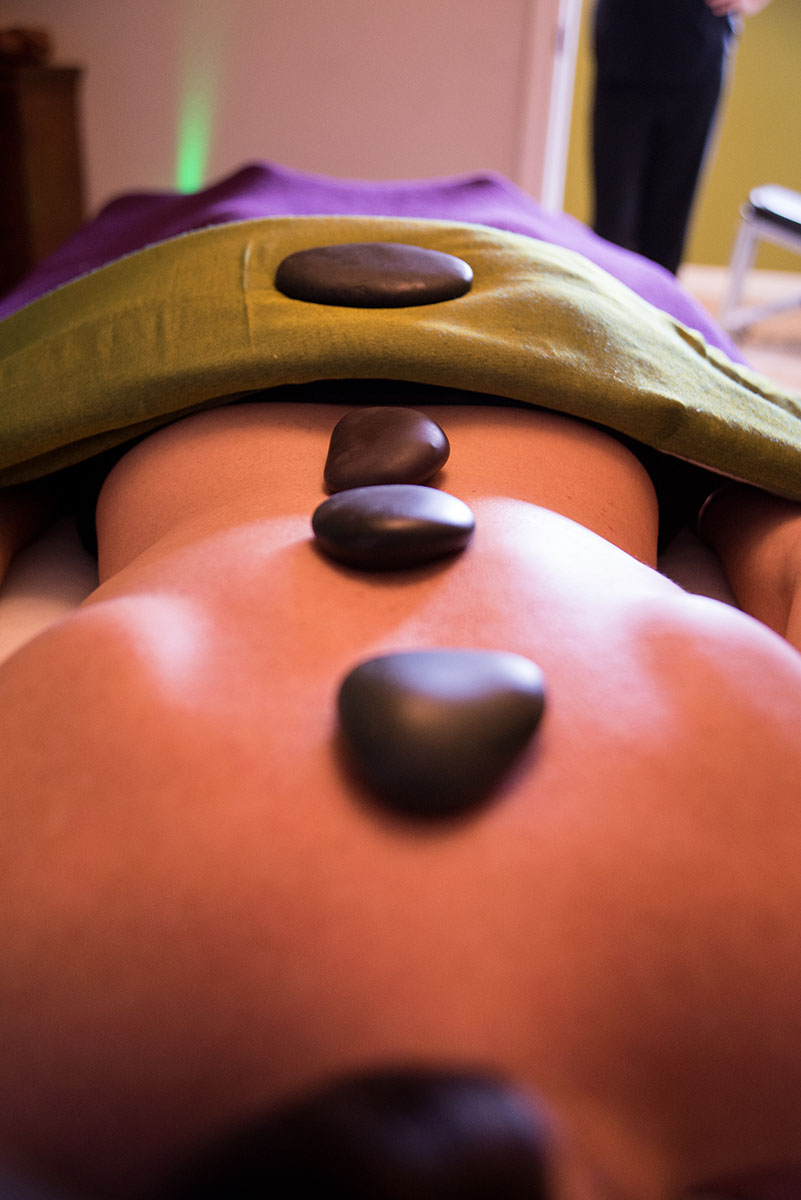 Hot Stone Massage 75min. – $115
Experience the extraordinary combination of hot rocks, massage and aromatherapy.  The healing properties of the warm stones deliver a more centered, deeper level of relaxation that stays with you long after the massage is completed.
Cupping Therapy Massage 60min. – $70
A form of alternative medicine in which cups are placed on the skin to create suction.  It mobilizes blood flow to promote the healing of a broad range of medical ailments.  Cupping therapy dates back to ancient Egyptian, Chinese, and Middle Eastern cultures.
Body Exfoliating Treatment 45min. – $75
Buff your skin to perfection with this high performance body exfoliator. Helps improve natural cell turnover for skin that looks absolutely radiant.
Seaweed Gel Wrap 60min. – $80
Enriched with sea kelp for metabolic stimulation and nutrient rich Klamath Blue-green algae to hydrate and detoxify.
Dead Sea Body Mud Wrap 60min. – $80
Increases circulation and will shrink inches from legs, arms, and waist. Drawing out impurities and exfoliating the skin ensures beautiful results.
A' la Carte Services 
Make any of our treatments even more delightful with these add-on services.
Customized Aromatherapy Blend – $15
Essential oils, and other aromatic compounds for the purpose of altering one's mood, cognitive, psychological or physical well-being
Body Brushing – $15
An age-old process of brushing skin with a natural brush to stimulate lymph flow, improve circulation, exfoliate skin and help cellulite.
Lymphatic Drainage – $25
Manual lymphatic drainage (MLD) is a type of gentle massage, which is intended to encourage the natural drainage of the lymph, which carries waste products away from the tissues back toward the heart.
Cupping Therapy add on – $30
Hot Stone add on – $30
Reflexology 15min. – $30
The practice of stimulating trigger points on the feet to encourage a beneficial effect on other parts of the body.
Rejuvenate Your Skin & So Much More!
The Sun, Moon, and Stars 41/2 hrs. – $260
Includes aromatherapy massage, customized facial, spa manicure with dazzle dry polish system. Includes lunch from local restaurant.
Half Moon 3hrs. – $199
Includes 60-minute massage, customized facial, and a spa pedicure.
Jet me to the moon 1½ hrs. – $93
Includes 30 minute Swedish massage, express pedicure, and express manicure. Which includes trimming, shaping and perfect polish.
Lunar Eclips
Create your own experience by combining three or more spa treatments at package pricing.
Spa Parties
Great for birthdays, anniversaries, weddings, or baby showers.  You and your friends enjoy a customized spa experience.  Call our spa coordinator for details, pricing and reservations.
Gift Certificates Available
Cancellation/No Show Policy
Your appointment time has been specially reserved for you.  Should you be unable to keep your appointment, we require a minimum of 24 hours notice.    However, we understand unforeseen circumstances happen.  A cancellation within 12 Hours will result in a service fee equal to 50% of the service booked. A No Show No Call will result in a 100% service fee equal to service booked.  You may also be required to pre-pay in full for your next booking which will be non-refundable.  Consecutive no shows and cancellations may result in termination of our relationship with you.
Spa Hours
Tuesday and Thursday:  9:30am – 5:00pm
 Wednesday and Friday: 9:30am -9:00pm 
Saturday: 9:00am – 4:00pm 
Closed Sun and Mon
Salon Hours
Tuesday and Thursday:  10:00am – 8:00pm
Wednesday:  10:00am – 4:00pm
Friday and Saturday: 9:00am – 4:00pm
Closed Sun and Mon
Rejuvenate Your Skin & So Much More!